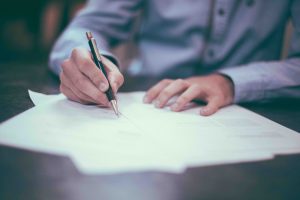 According to the Florida Department of Highway Safety and Motor Vehicles Traffic Crash Facts, there are more than 248,000 people hurt in Florida car accidents every year, and almost 32,500 injured victims in Miami-Dade County alone. For many of these individuals, the legal process for recovering compensation starts with filing an insurance claim. You might be working with your own insurance company, since Florida is a no-fault state; however, in some cases, you will file a third-party claim with the insurer for the responsible driver.
In either situation, you may be presented with a "release," a document that carries very important implications for your rights as a victim. As such, you should always consult with a Miami car accident lawyer before signing, and these warnings about releases should convince you of the reasons why.
You Give Up Your Rights:

The point of a release is to resolve your auto crash claim with the insurance company. In exchange for your signature, the insurer will offer a payout to cover your losses, with the stipulation that you have no further rights or remedies. When you are injured and facing an uncertain financial situation, the settlement amount may seem attractive. However, by giving up your rights, you risk being under-compensated. 

The Other Driver's Insurer Does Not Serve You:

Perhaps the most important point of caution is where you fall on the insurance companies list of priorities. Insurers have a duty to their own policyholders by contract; they are also motivated to keep shareholders happy with profits. When an adjuster requests that you sign a release, it is to serve these interests – not yours.

Releases are Written by Lawyers:

Insurance companies have large legal departments, staffed by attorneys who draw up documents intended to protect their employer's interests. Lawyers strive to develop ironclad releases and eliminate all loopholes, so they are almost always enforceable against you. It is rare that you would be able to set aside a release, even by arguing that you did not understand the legal effect.

You Cannot See Into the Future:

Insurers know that timing is critical, so they will try to get you to sign a release within days after a vehicle collision. When there is an attractive offer on the table, you may be motivated to do so – not realizing such pitfalls as:

You may need future medical treatment for your injuries;

You could incur additional expenses related to your medical care;

You might be out of work for some time;

You may suffer from permanent disability; and,

You cannot know the full extent of how your injuries affect your quality of life.
Discuss Releases with a Miami Car Accidents Attorney
These points should persuade you that retaining a knowledgeable lawyer is essential at the earliest stages of the accident claims process. Signing a release, making statements regarding the crash, and many other communications with the insurance company can damage your rights. Insurers do not try to take advantage of victims like you when you have an experienced attorney on your side, so please contact Gerson & Schwartz, PA to learn how we can help. We are happy to meet with you at our offices in Miami, Fort Lauderdale, or West Palm Beach, FL.