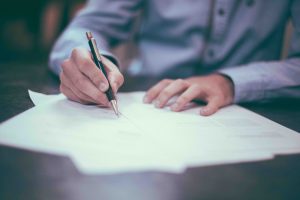 According to the Florida Department of Highway Safety and Motor Vehicles Traffic Crash Facts, there are more than 248,000 people hurt in Florida car accidents every year, and almost 32,500 injured victims in Miami-Dade County alone. For many of these individuals, the legal process for recovering compensation starts with filing an insurance claim. You might be working with your own insurance company, since Florida is a no-fault state; however, in some cases, you will file a third-party claim with the insurer for the responsible driver.
In either situation, you may be presented with a "release," a document that carries very important implications for your rights as a victim. As such, you should always consult with a Miami car accident lawyer before signing, and these warnings about releases should convince you of the reasons why.
You Give Up Your Rights:

The point of a release is to resolve your auto crash claim with the insurance company. In exchange for your signature, the insurer will offer a payout to cover your losses, with the stipulation that you have no further rights or remedies. When you are injured and facing an uncertain financial situation, the settlement amount may seem attractive. However, by giving up your rights, you risk being under-compensated.