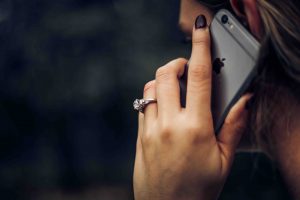 Dealing with an insurer's claims adjuster may be the last thing on your mind after suffering injuries in a Miami auto crash, but you can expect the phone to ring in the days that follow. Though you may view the conversation as an annoyance, keep in mind that it is a necessary part of the process when you are filing an injury claim. Typically, the insurance adjuster will be seeking information regarding fault and the severity of your injuries, so what you say – and DO NOT say – is critical. It is always important to seek the advice of a Miami car accidents attorney before you answer the call, but you may find some tips to be useful. 
Be Calm and Courteous
Start things off on the right foot, even if you are angry, anxious, or frustrated. You should stay calm during the conversation and be polite. The person on the other end of the call is just doing his or her job, even if you do have opposing interests in the claim.
Stick to the Basics
The only information you should provide to the insurance adjuster is confirmation of your name, address, and any details that were in the Florida accident report. You may be asked about your employer, and it is fine to offer the company name and phone number. Do NOT discuss your work, whether you have taken time off to recover, your income, or work schedule. In addition:
Avoid any mention of who was at fault in the accident;

Do not discuss your view on how the crash happened; and,

Never say anything about your injuries, other than the fact that you are currently under a doctor's care.
Set Limits on Communications
Your first – and hopefully ONLY – conversation with the adjuster should be short and simple, since you are only providing the basics as mentioned above. Decline a second conversation if the insurer's employee wants to follow up. There is nothing more you need to offer, and the request for another call is probably a ploy to get you to make admissions. In addition, NEVER allow yourself to be recorded. Simply state that you do not give permission to give a recorded statement.
Avoid Any Discussion on Settlements
If the claims adjuster mentions settlement in this first call, you should refuse to enter into further discussions. This person wants to minimize a payout to you, and is hoping that an early offer for settlement will get you to accept – before you have time to really consider it. It is likely that you do not even have a full grasp on your injuries, since you are still being treated. They could be worse than you expected, making any initial offer insufficient to cover your losses.
Consult with a Miami Car Accidents Lawyer Right Away
As you can see, it is essential to be very careful about what you say to a claims adjuster. As such, it is better if you have an experienced attorney to handle the conversation on your behalf. To learn more about how we can help with your claim, please contact Gerson & Schwartz, PA to schedule a free case evaluation at our offices in Miami, Fort Lauderdale, or West Palm Beach.
(image courtesy of Taylor Grote)