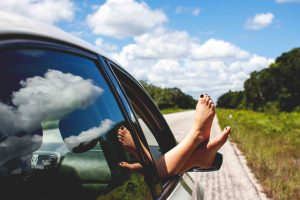 Many people assume that teen drivers present a considerable safety threat, and data compiled by the Florida Department of Highway Safety and Motor Vehicles reveals that there is some truth to the assumption. There are approximately 662,000 auto crashes in Florida every year, and almost 63,000 involve drivers who were between 15 and 19 years old. That is roughly 10%, rather high for an age group that spans just four years. However, despite the belief that teens are more reckless or dangerous because they take unnecessary risks, studies have shown that inexperience is a top factor in teen auto crashes. 
For worried parents of new drivers, experience is something your teen can only gain through practice – along with guidance, support, and appropriate rules established by you. As your child is learning and becoming more proficient at driving, there are some vehicle safety features that can also reduce the potential for car accidents in Miami. 
Lane Maintenance Alerts:

This technology employs sensors or video to assess whether the vehicle swerves over into another lane of traffic. It will then issue a lane departure warning to alert the driver and get him or her back on track.

Electronic Stability Control:

Many newer vehicles come equipped with this system, which will automatically apply the brakes when the car starts to skid or slide on a slippery surface. This gives the motorist time to regain control and recover – one of the most difficult driving skills to master. Researchers estimate that ESC may cut in half the risk of deadly, single-vehicle collisions.

Dash Camera:

Parents get some sense of comfort knowing that they can monitor a teen's driving even when not in the vehicle. Dash cams also encourage younger motorists to be responsible and focused behind the wheel.

Automatic Braking:

This technology is similar to ESC, but it uses sensors to assess the speed of the vehicle to other cars and objects ahead. When it detects a major speed difference, the automatic braking system kicks into slow or stop the vehicle.

Mobile Apps and Devices:

Parents can also implement portable devices and smartphone applications to keep teen drivers safe. It is possible to employ a smart key fob, which sets a maximum speed limit. You could even purchase products that block the use of electronics, unless it is an emergency. If the car your teen uses does not have these features, talk to your insurance company about devices that monitor driving behaviors. Through your telecommunications provider, you can also set up features to determine location.

 
Discuss Your Legal Options with a Miami Car Accidents Attorney
While these vehicle safety features and related technology may relieve some of your concerns as the parent of a teen driver, collisions still occur. At Gerson & Schwartz, PA, we are dedicated to fighting for your rights to compensation in an accident caused by another motorist's negligence. Please contact our Miami, Fort Lauderdale, or West Palm Beach offices to set up a free consultation, where we can describe our legal services for auto crash victims.