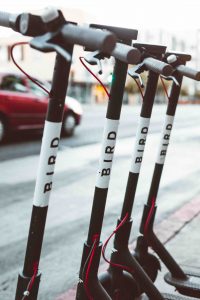 Miami city commissioners recently announced a six-month trial program to implement 300 electric scooters across District 2, a region that incorporates the downtown area, Coconut Grove, Morningside and Edgewater. An article appearing in the South Florida Sun-Sentinel outlined the plan involving Bird, Lime, and other companies that operate the dockless rental vehicles, familiarly called "e-scooters." The announcement comes as good news for people looking for a convenient, affordable, and sustainable option for getting around town. A user simply downloads the app, pays low fee to unlock the e-scooter, and then drops it off when finished.
E-scooter programs in Coral Gables and Fort Lauderdale have been quite successful, especially among students. Opponents argue that e-scooters increase the likelihood of traffic-related accidents. Fortunately, injured victims may have rights under well-established legal rules regarding negligence, and a Florida personal injury lawyer can explain in more detail. Still, to reduce the risk of accidents, you should review some safety issues and tips regarding e-scooters.
Risk Factors with E-Scooters
There are inherent risks connected with operated any vehicle, but some unique features make e-scooters more dangerous for riders, pedestrians, motorists, and anyone else in the vicinity. For instance:
Even though riders must at least 18 years old and have a valid driver's license, there is no training course or level of experience required.

Under the pilot program in Miami, there are no regulations regarding helmet use.

E-scooter riders may not be aware that they must comply with all traffic laws that apply to operators of cars, motorcycles, and bicycles.

E-scooters are popular among young adults and teens, who generally have less experience operating a motorized vehicle.

These vehicles are compact and lightweight, resulting in a greater jolt when the rider encounters a pothole, uneven pavement, and slippery surfaces.

In areas where they're allowed on designated bike lanes or sidewalks, e-scooter riders often weave around bicyclists and pedestrians.
Safety Tips
Common sense dictates that you wear a helmet when riding an e-scooter, just as with motorcycles or bicycles. Additional recommendations include:
Carefully review the operator's manual before riding;

Wear additional safety gear, such as elbow and knee pads;

Always wear long pants as opposed to shorts or skirts;

Do not ride at night on an e-scooter without headlights;

Dress in colorful clothing to increase visibility;

Never carry a passenger on a solo e-scooter;

Avoid transporting unbalanced or overly heavy loads;

Never grab a motorized vehicle to gain speed; and,

Follow all traffic laws that apply where you are riding, whether it is a road, sidewalk, designated bike lane, or intersection.
Set Up a Free Consultation with a Florida Personal Injury Attorney
If you were injured in an e-scooter accident that was not your fault, you may be entitled to monetary damages for your losses. You can trust our experienced lawyers at Gerson & Schwartz, PA to fight for your rights, so please contact our firm to speak with a member of our team. We can schedule a no-cost case assessment at any of our offices in Miami, Fort Lauderdale, or West Palm Beach.
(image courtesy of Nathan Dumlao)