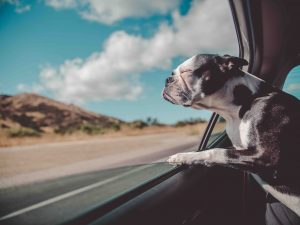 Dogs are a part of the family in South Florida more than ever, which means many drivers take Fido along when they are traveling or making short trips around Miami. While it might seem adorable to see motorists petting furry friends and allowing them to sit in their laps, the truth is that these people are creating a serious safety risk. The comparison to the distracted driving dangers involved with talking, texting, and other cell phone use is very real. 
Still, there are few laws or regulations covering the topic across the US. Florida has yet to take legislative action, so you can be sure drivers will continue to operate their vehicles under such risky circumstances. Fortunately, you do have rights if you are injured in a Miami car accident, so some background information may be helpful.
Comparing the Dangers of Cellphone Use to Driving with a Pet
The American Automobile Association recently conducted a survey on the prevalence of motorists interacting with pets while driving, and the findings are somewhat shocking:
Almost one-third of those surveyed admitted that they have been distracted while driving with a dog;

52% of drivers stated they pet their dog while operating the vehicle; and,

17% allow a dog to sit in their lap when driving.
All these behaviors can distract the driver in much the same way as using a cellphone. However, while the vast majority of US states have a ban on texting, talking, or other usage of portable devices, only a handful have implemented laws regarding pets.
Risks of Distracted Driving
The danger involved with any form distracted driving is that motorists are less attentive to the road when they are engaging in other activities. There are three primary implications for a driver:
Visual: Motorists may take their eyes off of the road and/or the vehicle's systems when interacting with a pet. Hazards can appear within a split second, and the driver may not spot them in enough time to avoid a crash.

Manual: When interaction with a pet involves petting, the driver takes at least one hand off the wheel. That means he or she has less control over steering, making it difficult to veer away from a dangerous roadway condition.

Cognitive: Driving is a process that incorporates decision making, potentially dozens of different decisions even during a short trip. If a motorist is not focused on making safe, responsible decisions – because he or she is paying attention to a pet – the situation could lead to a serious crash.
Our Miami Car Accidents Lawyers Can Assist with Your Claim
If you were hurt by a motorist who was negligent in driving with an unrestrained dog, it is important to seek proper medical care right away. Then, once your health is under control, please contact Gerson & Schwartz, PA to set up a no-cost consultation at our offices in Miami, Fort Lauderdale, or West Palm Beach, FL. Our experienced auto crash attorneys represent injured victims in a wide range of distracted driving collisions, so we are happy to advise you on your rights.