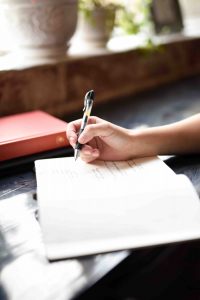 Besides hiring a Miami car accident attorney, one of the most important things you can do as the victim of a crash is to start a journal regarding your experiences. You will face considerable challenges in attempting to recover compensation through an insurance claim, since you can expect the adjuster to dispute everything from fault to the nature of your injuries. Having your own documentation enhances your credibility, provides support for damages claim, and helps your lawyer fight for your rights. Plus, a diary can also serve to refresh your memory regarding details you may not be able to recall.
Here are a few items to include when starting your post-accident journal. 
Details Regarding the Accident 
As soon as you can, jot down some notes about how the crash happened. These details will be essential in proving the other driver was at fault – and that you were NOT. Include:
The time and date of the collision;

Where you were coming from and your potential destination;

Weather and lighting conditions;

What you were doing in the moments before the impact, such as making a turn, stopping at a signal, slowing down, or other details;

Your speed and estimates of other vehicles;

A drawing or diagram of the crash;

Names and addresses of witnesses; and,

Any other details, regardless of whether you think they are relevant.
Your Medical Treatment
Information regarding your medical care immediately after the crash is important for recovering compensation for your injuries. You'll have medical bills to request reimbursement, but your journal will be important for proving pain, suffering, and other subjective losses. Make sure to note where you were treated, whether an emergency room, urgent care center, or your own doctor. Include a special note about when you sought care, keeping in mind that it is best to get medical attention the same day – or no later than 72 hours after the collision.
Ongoing Treatment and Symptoms
Documenting your recovery period is also important in an insurance claim because your pain and suffering will linger for some time. Depending on the nature of your injuries, you could require ongoing medical care and experience symptoms for months. Make sure to note your level of pain on a periodic basis, according to some helpful guidelines.
Other Implications
Additional notes to include in your diary are how your injuries affect your quality of life. If you are unable to play with children, engage in activities you enjoyed before the accident, or are affected in other ways, make sure to document this information.
Learn More by Consulting with a Miami Auto Accident Lawyer
If you can take thorough, detailed notes of your experiences in the days and weeks after a motor vehicle crash, you can trust our team at Gerson & Schwartz, PA to handle the legal side of your claim. We are ready to take on the challenges presented by the insurance company, and we can represent you in court. To schedule a free case assessment regarding your matter, please contact our offices in Miami, Fort Lauderdale, or West Palm Beach.
(image courtesy of Hanna Olinger)