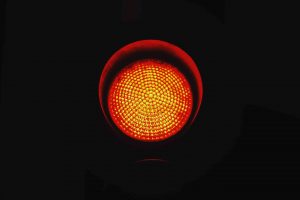 The Florida Department of Transportation (FDOT) hosts various events and initiatives throughout the year to promote safety on the state's roads, and the upcoming "Stop on Red" Week will highlight the importance of obeying traffic signals. Starting August 4 – 10, 2019, FDOT will be posting helpful articles and tips on social media to remind drivers of the laws intended to prevent fatal and injury-causing accidents. 
Stop on Red Week has been successful throughout the US in raising awareness, but there are still drivers who intentionally or carelessly run through red lights. If you were hurt in a red light crash, you should consult with a Florida car accident attorney regarding your rights. You can also read on for an overview of the main points of the red light initiative.
Why Red-Light Runners Create Significant Risks
The Stop on Red Week website includes a full list of the Top 10 dangers and reasons it is critical to comply with traffic signals. Some of the key points include:
More than 42% of drivers admitted that, within the last 30 days, they traveled through a light that was turning to red when they could have easily stopped.

Red light running, neglecting to stop at signs, and disregarding other traffic signals is more common on urban crashes.

In 2016, more than 800 people were killed and approximately 137,000 were injured in collisions that were tied to running a red light.

The most common fatalities involve pedestrians, bicyclists, and occupants of vehicles that

were not

the car that ran the red light.

Almost 40% of injured victims are hurt because of another motorist ignoring traffic signals.
Recovering Compensation for Your Losses
Running a red light is unlawful and can lead to a traffic ticket by authorities, but – in itself – this misconduct does not automatically entitle victims to compensation. Instead, you must prove the same elements that apply in any motor vehicle crash:
The other driver had a duty to drive reasonably safely, which means complying with traffic laws;

That person breached this duty by intentionally or carelessly passing through the intersection after the light turned red;

The breach – running the red light – was the direct cause of the crash in which you were injured; and,

You suffered losses because of your injuries.
By presenting solid proof of each of these elements, you may be entitled to monetary damages for your losses. Typically, your first step is to file a claim with the responsible driver's insurance company. However, it may be necessary to initiate litigation if the insurer does not offer a fair, reasonable settlement amount.
Schedule a Free Consultation with a Florida Car Accidents Lawyer
For more information on your rights as a victim of a red light crash, please contact Gerson & Schwartz, PA. We can set up an appointment to discuss your legal options at our offices in Miami, Fort Lauderdale, or West Palm Beach. Once we have a chance to review your situation, we can provide more information on how to proceed.
(image courtesy of Erwan Hesry)